Sunday, January 18th, 2009
---
7:48 pm
- Trial run.
Thursday, January 15th, 2009
---
6:53 pm
- Hiiiii? Anyone out there?
I have no idea what prompted me to log into Lj.... but since I have I might as well see who is still updating.

Where's my past? Say hey!

Dale

current mood:
hopeful
Wednesday, July 11th, 2007
---
7:02 pm
So basically I'm just getting things ready for the move to Tampa later this summer. While I'm completely stressed out and worried about the move.... I'm excited as hell to be in a gay scene that offers more than what Tallahassee can ever dream to. If you recall... I used to live in Tampa years ago... but I'm so much more the bitch these days. Bring it on Tramps!

Let me tell you first how much I enjoyed:




AMAZING. Loooved it... you must see it as well.... as my opinion is all that matters.

Just got back from an amazing weekend in tampa where I got to hang out with the best of the best.... and that reassured me that I want to move there. So excited.

In other words I just downloaded the Hillary Duff CD and I also find it amazing. I began to hear her remix of Dreamer on my AFTunes on my myspace profile.... www.myspace.com/geminiboi82 and immediately got the cd. It's already very techno oriented and it pleases me greatly.

Muah.


Monday, June 25th, 2007
---
1:20 am
- OMG Random.
I just ran into Matt Punk
mrpunk2u in Atlanta GA for Pride.... it was the Pride parade and I was only there because it was on the same street at my friends condo... and all the faggots were blocking the way to the booze at Lowdown's....

I'm jammin' out seeing random people from eeerrrrwhere when out of the heatness someone says "Hey you!" I'm like you are so familiar... and BAM it's Punkass being all like omg we know each other. So much fun. I have a picture of this event too... and true to my form I'm wasted face and nasssty. Here we is.

Looooves us.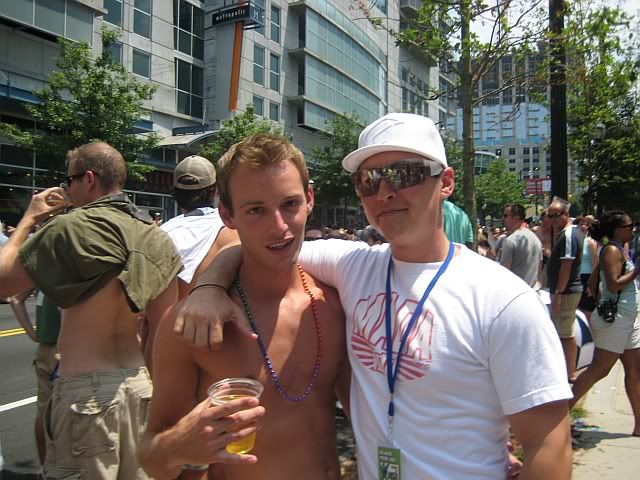 Thursday, May 10th, 2007
---
10:49 pm
- Hmmmm.
So I graduated. Which doesn't really feel that different... except some of my friends started summer classes already. I took the first part of the summer off last year... so it definitely feels the same.

I'll be moving away from FSU and Tallahassee (again, but this time with a degree) in search of the life I was meant to lead. Does that even make sense anymore? Do people really wander off to find a life after they finish something that initiates a change?

I find that I'm moving right into the arms of.... well, the life I had here in Tally. The first time I moved away from the place I've always called home it was to Tampa. I was young... and dumb. I was frivalous and self-indulgent... completely irresponsible and socially competitive to people who would always outdo me. I pretty much count the 3 years after highschool as a period of failures. Maybe those failures were necessary to make my life what it is today. As nostalgically cliche as that statement is.... it should hold more than a grain of truth. When I say I'm moving right back into the arms of my Tally life... but in Tampa... it's due to the fact that a good 15 or so friends who once occupied much of my life and time here at FSU.... now live in Tampa. The city I once despised so much... is now welcoming me again... but this time with memories that were stolen from a different place... and a differnt time. A better place... but hopefully not a better time again. I'm excited to give Tampa another go around.

Honestly I'm really bored and just lost interest in something I two minutes ago was excited about (this). Where's my muse damnit!

current mood:
curious
Saturday, November 18th, 2006
---
12:01 am
- Things change so fast!
Here's some pics to update my life and good times. Maybe people aren't interested anymore but I think LJ could really help me get some things off my chest these days. I miss my LJ buddies anyways :)

Invalid video URL.
Invalid video URL.
Invalid video URL.
OK HOW THE FUCK DO I GET THE PHOTOBUCKET SLIDESHOW LINKS TO WORK? HELP. MUAH!

current mood:
happy
Monday, May 22nd, 2006
---
3:43 pm
I built a patio in 3 days. Photos to come soon :)
Thursday, April 6th, 2006
---
11:32 am
- Something funny...
Last Saturday was the Springtime Tallahassee festival here in Tally, Florida. I was registered in the 10k race with 2 of my friends but things got complicated and I didn't get any sleep etc... so after 2 miles I quit running (only one friend showed up, the one that didn't was my running partner). I forgot that I had to run 2 miles back to my car so basically it was a dumb thing to quit. I'm still kicking myself over it. My friend John finished the race and I met him at the finish line and then we went downtown to see the parade. We got a pretty good position and soon we were joined by a woman that writes for the Tallahassee Democrat, our main local paper. She was really nice and interviewed John and I for her article in the paper. I didn't expect to actually make it into the article but here I am :)

'Small-town feel' shines through big parade
By TaMaryn Waters
DEMOCRAT STAFF WRITER

The smell of fried blooming onions and funnel cakes wafted through the air as people reached out their hands for flying Mardi Gras beads. Tallahassee resident Dale Quick, 23, was a man on a mission for the rainbow treasures that dangled on the arms of passersby.

Quick called out, "Beads," or "Woo-hoo," every time he spotted someone within shouting distance.

Quick, a Florida State University student studying business management, said he enjoyed seeing the law enforcement officers in the parade, but he admitted, "I'm here for the beads."

Ok... could she have made me out to be any more gay? I was on a mission for the rainbow treasure... and apparently I was only there to check out the men in uniforms. Why not just say I'm a faggot that got confused about how to get to Southern Decadence this year, haha! I had a really good time and I got tons of beads. I was after the fun ones (shamrocks, cool colors or designs) but they were harder to find and people started catching my bead fever and stealing them away from me. I almost had to deck granny once... just once though. I was the bead king.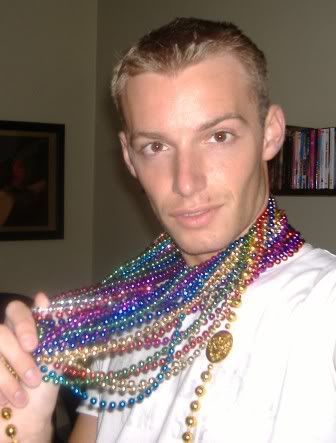 current mood:
calm
Wednesday, April 5th, 2006
---
12:41 am
I haven't posted in forever... so here are some pics.

Wow life has changed since the last time I LJay'd. I kinda liked the distance...

I wondered if LiveJournal died along with Friendster, but it appears that some JD dependents will never quit ;)

Maybe I'll strike a come back.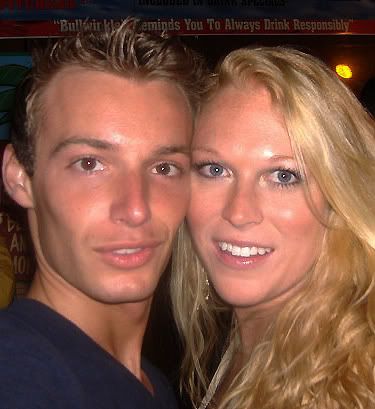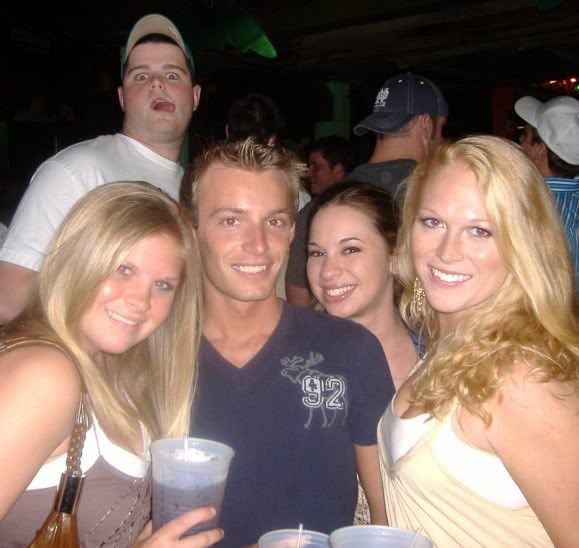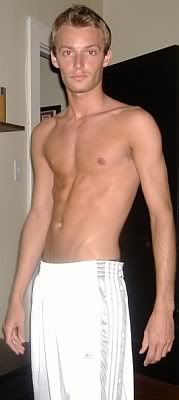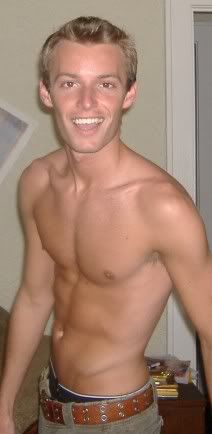 Is that enough to spark interest? If anyone cares (leaves me some love) ... maybe I'll come back to the realm of gayness.

current mood:
sleepy
Sunday, March 5th, 2006
---
12:09 am
- Chicago anyone?
If I were to be in Chicago in May... would you visit me?!

Maybe I should start back with the Ljay thing...

:)
Tuesday, November 29th, 2005
---
8:28 pm
Sooooo I've been having lots of fun lately.
I went through a phase of life where I didn't go out... yeah there were reasons but when I found that reason to be unworthy of my homebody dedication... I started going out again. :) Life is good when you have 10,000 friends.
Brian (
riley8 ) randomly called me one Friday afternoon to tell me he was coming to Tallahassee to visit. Brian went to UF in Gainesville (bleh) so he just HAAAAD to come up and see the Tallatrashy (as he calls it) campus.... which he terms (FSUcks and the CrimiNOLES). I hate you Brian :) JK
It just so happens that it was Mandy's birthday on Friday so naturally me, Brian, and the old Carrabba's crew went out on the town. First off was Baja's Beach Club where we met up with Kelly, Tonya, Nickaoli, Dionte, Wanda, and Tuesday... then we went to the Tennessee Strip!
( Here are pictures of Brian's Tallahassee visit/outing!Collapse )
Whew, what a bunch of drunks :) It helps when you get in FREE VIP and FREE DRINKS ALL NIGHT. I love the hookup, but I love my girls even more!
Here are some wonderful pictures of a Dale and Dionte outing from the previous weekend. Naturally we ran into Kelly and Nickaoli again!
( Hot pictures behind the cut ;)Collapse )
Here are some exclusive pictures from Carly's crazy pre Brother's Black Party get together.
( Be warned, it's gunna be cute.Collapse )
So then of course Thanksgiving was approaching ... Brian went on his merry way back to Tampa... and I decided it was time for me to visit him while in the area. Little did I know then that it was ALL I would be doing :) Actually I went to Bradenton (I skipped eating with the fam oops!) and ate with a long time friend Scotty. We had DEEP FRIED TURKEY and it was AMAZING. The best Thanksgiving food ever! Thanks for having me guys.
( Tampa nights with Dale, Brian, and Mike!Collapse )
As usual... some female was trying to eat my face. :)
Tampa was a lot of fun actually... it exceeded my expectations. I got to see a few old friends and we went to all the old clubs I used to stop around in. Too bad we decided to go to Chambers on The Garage's reopening night. I would have known so many more people there!
Sorry for the 1000 pictures but hey, when it rains -- IT POURS.
Lots of love!
current mood:
drunk
Friday, November 4th, 2005
---
6:49 pm
- Death
Dying to death.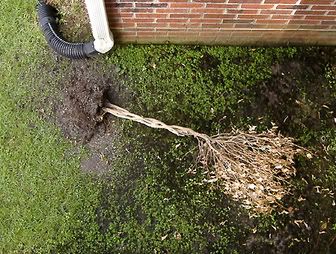 current mood:
accomplished
Thursday, October 6th, 2005
---
12:53 am
It's no little known fact that I tend to over photograph myself. It is no doubt a strong indication that I am extremely insecure about myself. Allright now that I've gotten that out... I'd like to express my confusion about just how different photos can be. I can take pictures two or three different times in a day, yet in some I look young, some I look older, and some are just lucky shots that somehow come out warm and cute. What's a camera anyways?

The last post contains a picture I believe to be a very young look. I don't even recognize the "kid" in the photo.

This is a picture that I DO think looks like me... right down to the rugged "I'm almost 24" stress lines that illustrate just what a rough life I like to cause myself to have. I always have red eye and I almost always glisten with what genetics has give me...oily BUT dry... irritably dry skin.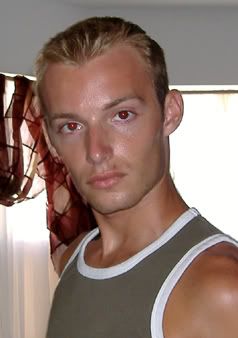 Now here is a picture that I tried to make come out good... naturally... where I'm using my cat Gert (yes hes cuter than this) as a prop. I never smile in pictures but I did a session where I did nothing but smile. I was suprized that I don't really recognize the person in the photo just like the kid one. I don't understand how the camera can be so versatile in capturing what is physically here. It's just too out there for me to comprehend I guess.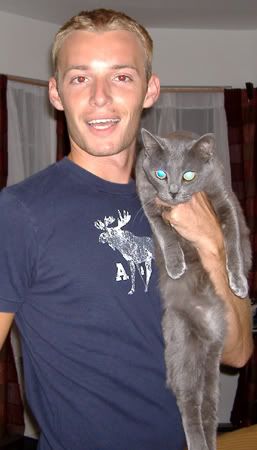 The three photos (one being in the previous post) don't look like the same person to me.... regardless of the oh so fabulous "i've never plucked or trimmed them" eyebrows. If there is one thing I'm proud to have inherited... it's those bitchy expression aides.

I guess this was sparked becuse I watched America's Next Top Model... where Brittany, a Tallahassee local... was on the show. It is one thing to know someone in real life... it's completely different to see them act the same on tv. I'll admit... she looked totally hot in her photos... but I don't see the attraction for her as a person. Photography is amazing and I would very much love to learn allll about it. It's just so confusing to me.... it's the attainable, but unknown.

current mood:
bitchy
Saturday, October 1st, 2005
---
5:15 pm
I have a new facebook picture.

It's actually an OLD picture from 2 Halloween's ago. Apparently people like it? I got 5 new messages within 20 minutes of putting it up... and just today I got a comment from Haley, an old HS friend that I went to Mexico with. She was prom queen.... but not only because she's beautiful (her mother is gorgeous, her brother a stud) but also because she has a very down-to-earth personality. Cheers to Spanish III and what seemed like forever in Mexico!!

I started reading "The Eye Of The World" by Robert Jordan. My mother gave me a bunch of fantasy books way back when I was 12 or so. Needless to say I never read the 800+ page novel. I found it when I moved into this new apartment and I recently picked it up for a viewing. I read over 25 books this summer, mostly books by Tamora Pierce, at what seemed to be some race set pace. It feels like I'm reading to earn stars on a chart like back in middle school.... I guess I've won the pizza party for my class again? Anyways, I am almost done with the book..... so I went to Borders to see what other books Jordan has written.

FUCK ME the book I am reading is book ONE of TEN. All of the books are nearly 800 pages. I have been reading like crazy to see what the end of this book holds.... all the while thinking.... it doesn't feel like I'm progressing that far after 600 pages. It's all a bunch of eluding, evading, running...... It's stressing me out.

I also just found out that Pierce has written some new books.... so I ordered them off Amazon and after book 1 of 10 for Jordan I'm going to read HER new books before I forget whats happened in her 5 quartets that led up to them. Yes that is 20 books. I'm so excited for the new material that I could just shit myself. I even emailed Mrs. Pierce to tell her how happy I am with her.

I haven't updated in a while because I just don't feel like being at the computer much. I often turn it on and just walk away. I do try to keep up with LJ and Facebook though.... reading wise.

I have 3 clases with Jenny and that is such a blessing. I'm very happy with this semester even though it has required me to go to campus when I don't have class to work on projects with Sean, Bridgette, Nickaoli, Jenny, Jordan and other randoms. We always grab lunch in our big group and work in the lab being loud and obnoxious. It's actually a fun time and I'm glad to fight across town traffic to be amused by them. I wonder how many more classes I need to take before I'm done. Maybe I will figure that out right now.

I have had 3 tests so far this semester and they are all A's. Not too shabby. :)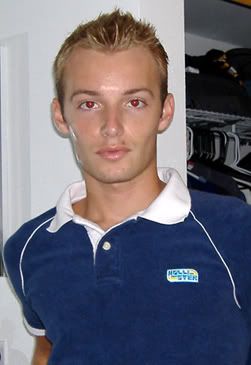 I look way too young in this picture.

current mood:
calm
Wednesday, September 14th, 2005
---
10:36 pm
I don't really watch a lot of gay movies.

I also am too much of a pussy to watch a lot of scary movies.

I'm DEFINITELY not going to see THIS movie... even if the killer has a.... well, killer... body.

http://www.hellbent-movie.com/

A cute cast tho... and it's originality should cause some commotion.... but..

I'm not comfortable with this moving being about gay men and being titled HELLbent.

What message are they trying to send? I think they guys are all killed during gay sexual acts too....

Makes you go hmmmmmm -- or does it make you wanna spit?

Most of you (Justin) would let the demon kill you.... as long as he DID you first ;)



Messes.

current mood:
intimidated
Saturday, September 10th, 2005
---
12:54 am
I loved the movie "The Forgotten" and I love Yahoo Music Engine.

Derrick is nice too.... except the whole Madonna thing. ICK.

School is fun, work is fun, and having financial aid is fun.

Congrats Kristen and Bob, you two are so cute!

current mood:
calm
Monday, September 5th, 2005
---
11:55 am
- FSU vs UM
FSU vs UM game today!!!

We got section 6 tickets, row 27... awesome seats!

I know someone that can give me free (not $3.50) concessions...

And my bestest friend Dionte's father lives so close to the stadium you can spit on it....

and he said I could park there for free :)

It's my first real FSU game and it's going to be a GREAT ONE.

Even if we lose to those Hurricane bitches this deal is sweet!

The tickets were no hassle, concession won't be a problem, and parking is already arranged.

YAY -- I'm excited!

current mood:
excited
Thursday, September 1st, 2005
---
12:35 pm
Aweeeee... Look at my lil' dirrrrty boys (Gert) -- HES SO CUTE.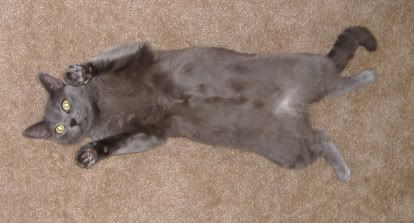 Also... look at my Violets. I bought them a few months ago and have been feeding them violet food. They flowered once when I got them... then they died away.... and they just came back. I'm super excited... since they are an easy way to introduce lots of color into the home. They are cute in the window during the day (for sun) and on the shelf over my bed by night (for decoration).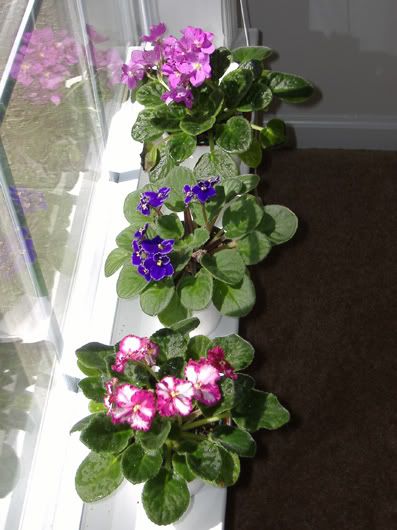 Since everything is so pretty (cat... violets...) lets counterbalance it with my UGLY scar. I want a new face please.
Nevermind my big pores... I'm reminded of Auntie Noxema on Too Wong Foo -- "My god, I've had apartments smaller than these pores." I haven't been able to scrub my face because the scar is still really sensitive. It's a disgusting when I lift my left brow and I can feel the skin pull at the scar tissue. Ick.
Look at this old ghetto (and ghetto webcam) picture I found.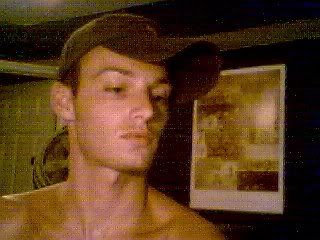 No scars there :(
current mood:
aggravated
Sunday, August 28th, 2005
---
12:12 pm
A hurricane's a comin.....
Katrina: 28 August 2005, 12 Noon.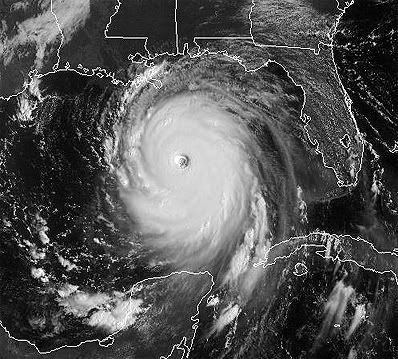 See? I told you.
Of course since my BF is getting his PhD in Meteorology.... I get nonstop Katrina information.
It's exciting and scary at the same time.... and to think I wished it had come our way. I'm glad that it didn't.... but I'm certain it's NOT good that it is going over NOLA.
Why can't she just go to Mexico.... I'm pretty sure she doesn't need a passport ;)
Prayers to those in harms way.
current mood:
nervous
Saturday, August 27th, 2005
---
11:36 am
Oh have you EVER in your entire life?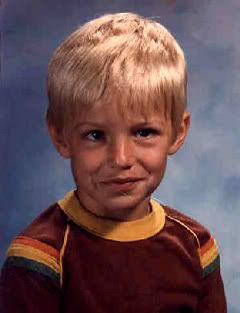 I always forget I posted this picture on my MSN site like 10 gazillion years ago. I just found it again since they sent me an email saying they were shutting it down due to inactivity.
Well I stopped the shut down, and found this picture.
Was I ever really that cute? Oh to be scarless. :(
I wanna see baby pictures of EVERYONE. If I have one, YOU most certainly do.
See the eyebrows? Flawless from birth.
current mood:
nostalgic